September 5, 2018 | Leslie Hallman
Odd Lot + Simple Spaghetti Bolognese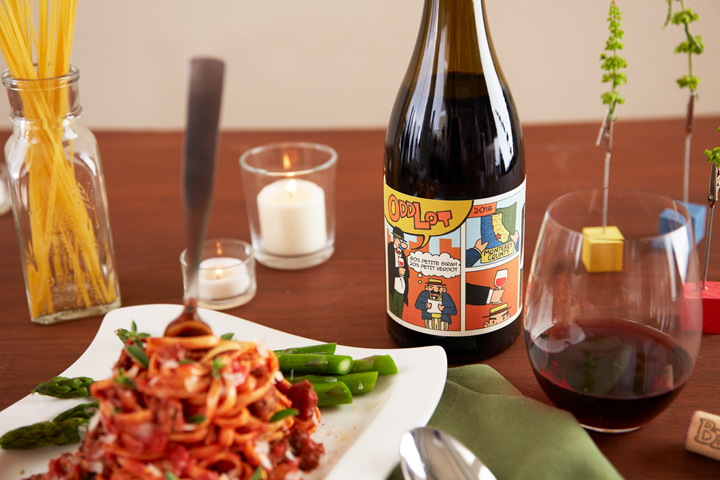 Skip the take-out chinese food & back of the fridge leftovers tonight and #BeOdd with a home-cooked meal! This bolognese is jam-packed with flavor, yet simple enough to pull together for a weeknight meal. Pair with a crusty french loaf & a glass (or two!) of our Petite Sirah-Petit Verdot red blend for best results.
Ingredients
1 pound lean ground beef
2 tablespoons extra-virgin olive oil
4 garlic cloves, minced
1 tablespoon fresh oregano leaves
½ teaspoon crushed red pepper flakes
1¼ cups red wine
1 (28-ounce) can San Marzano tomatoes, crushed
2 tablespoons tomato paste
Kosher salt and freshly ground black pepper
1 pound pasta
¼ cup basil leaves, coarsely chopped
¼ cup heavy cream
½ cup grated Parmesan cheese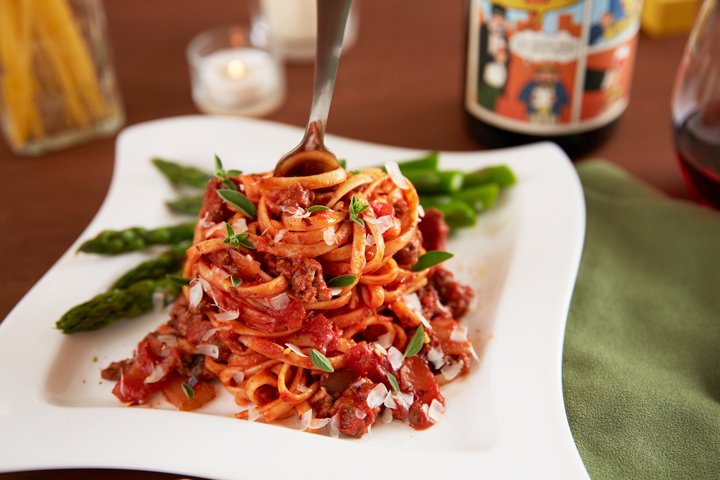 Instructions
Heat 2 tablespoons of extra-virgin olive oil in a large skillet over medium-high heat. Add ground beef and cook for 5 to 7 minutes, until the meat has started to brown. Stir in the garlic, oregano, and red pepper flakes and cook for another minute. Pour 1 cup of the wine into the skillet and stir well. Add the tomatoes, tomato paste, 1 tablespoon salt, and 1½ teaspoons pepper, stirring until combined. Bring to a boil before simmering for 10 - 15 minutes. Prepare pasta according to directions. Finish the sauce by adding the basil, cream, and the remaining ¼ cup wine to the sauce and simmer for an additional 8 to 10 minutes, stirring occasionally until thickened. Add the sauce to drained and rinsed pasta and ½ cup Parmesan and toss well. Garnish with basil and serve immediately with additional grated Parmesan.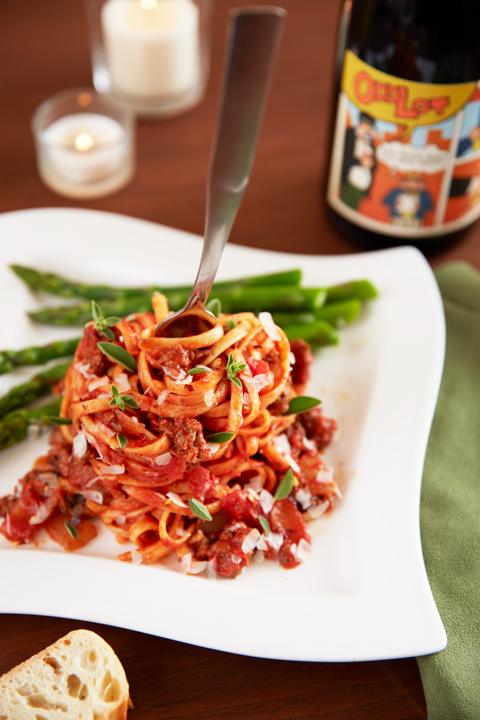 Comments
Commenting has been turned off.